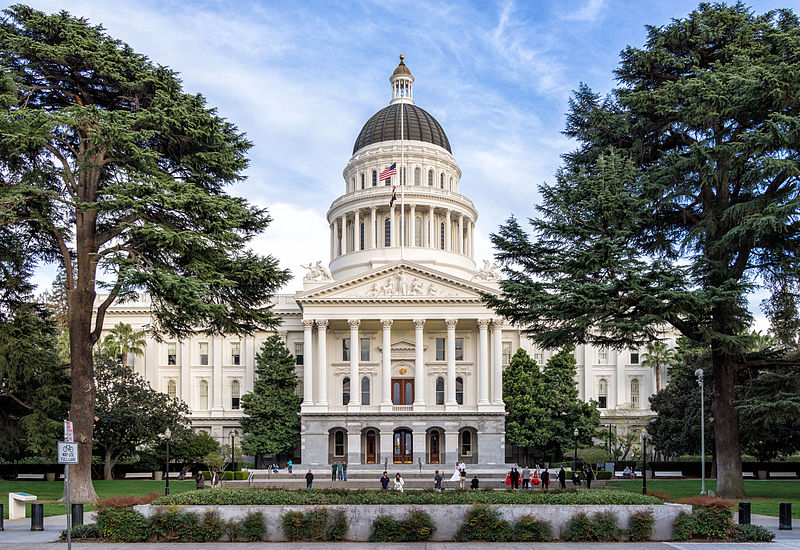 The California Legislature is well into its 2019 session, considering hundreds of bills as well as the state budget. In my first post as Interim President, I'd like to update you on how we're putting equity in action in the legislature.

As the mother of two young children, I know that the concept of fairness is ingrained deeply into their views of the world. Here at Greenlining, we know that the systems that we live in aren't always fair or equitable, and especially towards people of color. For every dollar of wealth the median White family in the U.S. has, the median Black family has about a nickel, with Latino families almost as far behind.
That's no accident; it's a result of policy choices. That's why we're working with legislators in Sacramento to change things.
The California Legislature Can Boost Opportunity and Diversity
Throughout our existence, Greenlining has pushed to bring jobs and opportunities into our communities. One way we do that is by working to level the playing field for entrepreneurs of color and to diversify the leadership of key industries, so that they actually see our communities and recognize our needs. We're continuing that effort in the California Legislature this year, focusing on hospitals and insurance.

Building on our long history of work on supplier diversity, we're sponsoring Assembly Bill 962, authored by Assemblywoman Autumn Burke (D-Inglewood). Large businesses, including hospitals, buy massive amounts of goods and services each year. Our long experience with the utility companies shows that simply requiring firms to report their levels of contracting with businesses owned by people of color, women, veterans and LGBT people leads to big increases in contracting with diverse businesses, so AB 962 brings that same transparency to our massive hospital industry. It would require hospitals with annual operating budgets of over $25 million to report how much contracting they do with diverse suppliers – a simple step that will make a big difference.
We're also working to bring equity in action to California's huge insurance industry via Senate Bill 534, introduced by Sen. Steven Bradford (D-Gardena). In addition to a supplier diversity provision that builds on a successful program that ran from 2013 to 2018, SB 534 would require major insurers to report the diversity of their governing boards. According to the last data we have, from 2017, nearly 80 percent of insurance companies' governing board seats were held by men and only 12 percent were held by people of color – in a state where people of color have been the majority for many years. Of a total of nearly 2,400 board seats, only 14 members self-identified as LGBT. At least 13 percent of insurers reported zero women and 35 percent reported zero persons of color on their governing boards. To change this, we need continuing transparency.
We're also working to bring equity in action to the California Public Utilities Commission, which channels over $1 billion of ratepayer funds into clean energy programs. Those programs produce many benefits besides clean energy: They help clean the air, improve public health, create jobs, lower customers' energy bills and more – benefits that are vital to communities of color, which too often breathe the dirtiest air, pay more of their income for energy, and have been deprived of economic opportunities. But amazingly, the CPUC hasn't been considering these "non-energy benefits" when evaluating these programs. That's why we're pushing the California Legislature to pass AB 961, which would require the CPUC to take these important benefits into account and prioritize environmental justice communities.
Equity in Action in the State Budget
One of the California Legislature's biggest responsibilities is to adopt a state budget – roughly $213 billion this year. Equity in action takes money, and sometimes relatively few dollars can make a big difference. We need $5 million to implement SB 1072, authored last year by Sen. Connie Leyva (D-Chino). This seemingly small amount can do a lot to help underresourced communities get a fair shot at clean energy funds they urgently need – true equity in action. We believe SB 1072 can serve as a model for building local capacity for community-led climate action and resilience.
And let's adequately fund a truly remarkable program that Greenlining helped create and that's already started to do great things for low-income communities of color: Transformative Climate Communities. Using money paid by polluters via cap-and-trade, TCC empowers communities to create programs that both fight climate change and make underserved communities cleaner, greener and healthier by combining things like improved transit, energy-efficient affordable housing, solar power, urban greening and more. TCC-funded plans are underway in Fresno, Ontario and other places, and with the $140 million we and our allies are seeking this year, it could help many more California communities.
Happily, Gov. Newsom's recently released May budget revise proposes $132 million for TCC – a major increase over last year.

On the tech and telecommunications front, we strongly support SB 704, designed to increase participation in the LifeLine program, which provides affordable telephone service to low-income households – one of the earliest and best examples of equity in action. The bill would give targeted support to specific groups such as foster kids, veterans and the re-entry population, for whom the need is particularly critical.
On the other hand, we urgently want to defeat AB 1366, which would extend one of the worst laws the California Legislature ever passed: a 2012 measure that deregulated broadband service providers like AT&T and Comcast, allowing these huge companies to basically make their own rules on everything from how they use your data to providing privacy protections (or not). This law was about to sunset. Letting it continue till 2030 is a terrible idea.

And finally, legislators are considering lots of legislation to address our state's affordable housing crisis – more than I have space to list. A meaningful answer will involve many moving parts – protection for tenants, building more housing (including funding for urgently needed affordable housing) and recognizing the intersectional nature of the pressures leading to displacement and soaring housing costs. For more, please see Sonrisa Cooper's recent blog post outlining what equity in action must look like for housing.
That's a big agenda but, amazingly, it just scratches the surface. We're keeping an eye on many more bills working their way through the California Legislature. To keep abreast of what we're doing, check us out on Twitter and Facebook, and add your voice to our efforts.
We just celebrated Mother's Day and we often acknowledge the hard work that mothers do in their families and communities, but we don't think as much about the dreams that mothers have for their children's future. I dream that what I tell my kids will ring true: If you work hard and do your best, you will be able to achieve success and reach your dreams.
And what does success mean? To most, it means things like having a well paying job doing something you love and a safe, stable place to live. At no point in my dreams would I imagine my children being denied access to the very basic services that we need to participate fully in today's society.
My children are still young and to them "fairness" is paramount. Usually, this has to do with who has which toy for the longest time, but as they grow older, they will see the larger picture.
Which is why I am so excited and honored to be back at Greenlining, where equity is the thread that binds all of our advocacy work together. We institutionalize "fairness" and access to economic opportunities for communities of color, and our legislative agenda this year reflects that perfectly.

Preeti Vissa Kristipati is Greenlining's Interim President.

SOURCE: http://greenlining.org/blog/2019/equity-in-action-our-2019-agenda-for-the-california-legislature/