[ Article originally appeared in www.gov.ca.gov ]

WHAT YOU NEED TO KNOW: Local, state and federal officials announced an agreement to restore the Yuba River and reopen the waterway to salmon and sturgeon for the first time in more than 100 years.
YUBA RIVER – At the launch of one of the most ambitious watershed recovery efforts in California, Governor Gavin Newsom today joined state, federal and local officials to announce a landmark framework agreement that will reopen miles of habitat to multiple native fish species. The agreement sets the stage for the return of imperiled spring-run Chinook salmon to their native habitat in the North Yuba River for the first time in more than 100 years.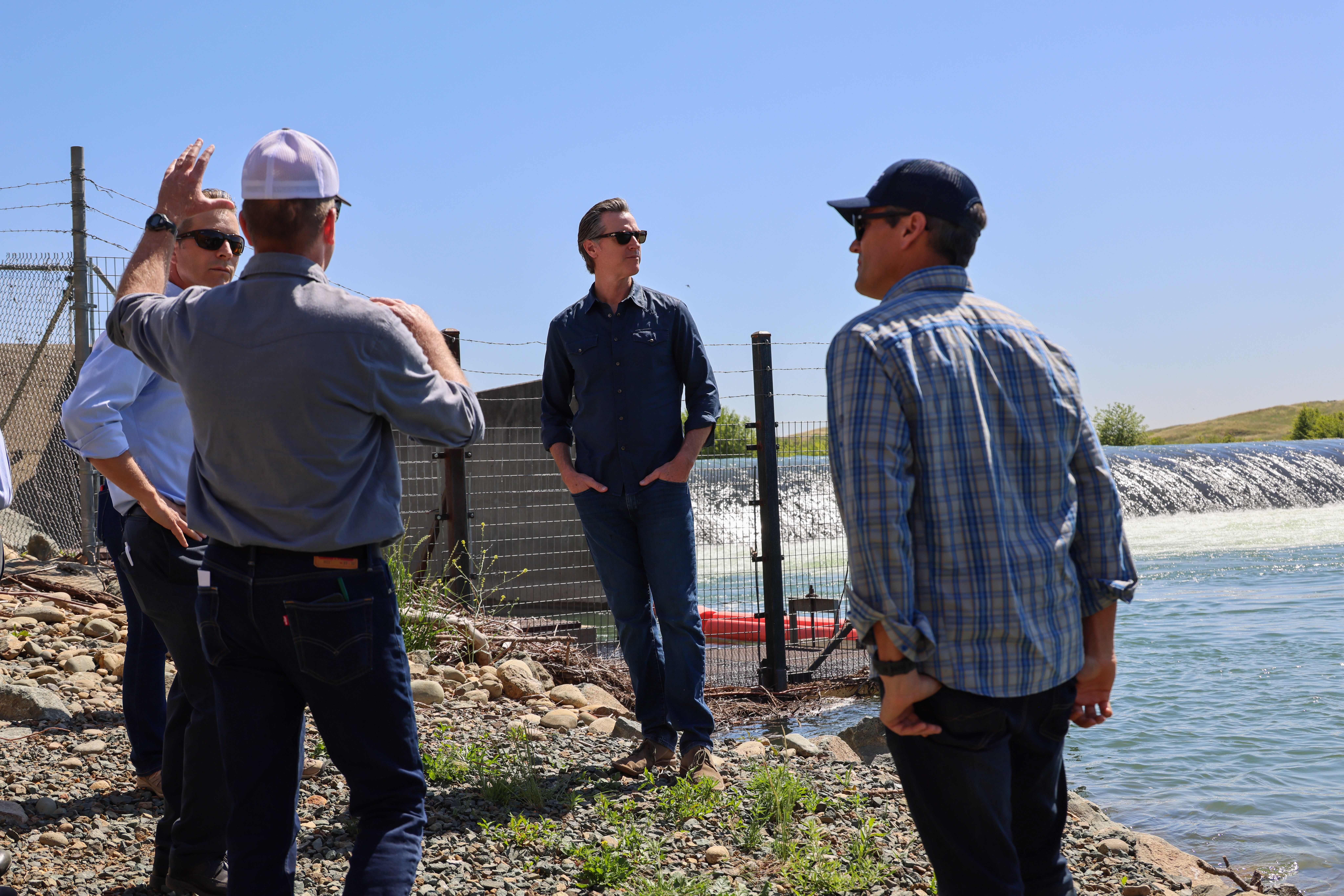 Governor Newsom and state, local and federal officials survey the Daguerre Point Dam on the Yuba River.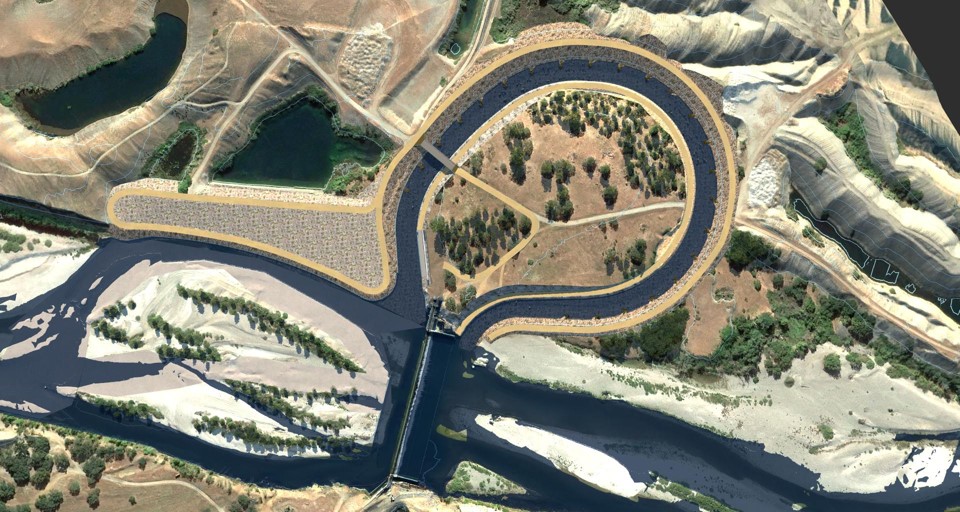 Rendering of the planned fishway, a channel that will allow fish to reach healthy habitat.
This collaboration between the California Department of Fish and Wildlife (CDFW), Yuba Water Agency and the federal NOAA Fisheries agency resolves years of conflict and includes major actions to help recover imperiled fish:
Building a new fishway – a channel resembling a natural river that salmon, steelhead, sturgeon and lamprey can follow to get around the U.S. Army Corps of Engineers' Daguerre Point Dam to reach over 10 miles of healthy spawning habitat.
Building a modernized water diversion at Daguerre Point Dam to supply irrigation water south of the lower Yuba River that will protect fish passing the intake.
Launching a comprehensive reintroduction program to support recovery efforts of spring-run Chinook salmon with a goal of returning them to their original habitat in the North Yuba River above New Bullards Bar Reservoir as soon as 2025.
The agreement will restore unimpeded access for fish to the full reach of the Yuba River from the confluence with the Feather River up to Englebright Dam for the first time in nearly a century. Last year, California invested $100 million to support salmon and $30 million of that will go to this project on the Yuba River.
What Governor Newsom said: "California is taking action to restore vital habitats and return fish to their historic home – turning the page on outdated water infrastructure that has blocked passage for these fish for over a century. Together with historic investments, we're restoring crucial waterways across our state and laying the groundwork for a salmon resurgence that's not only good for fish, but a lifeline for the communities and Native peoples who rely on a healthy fish population."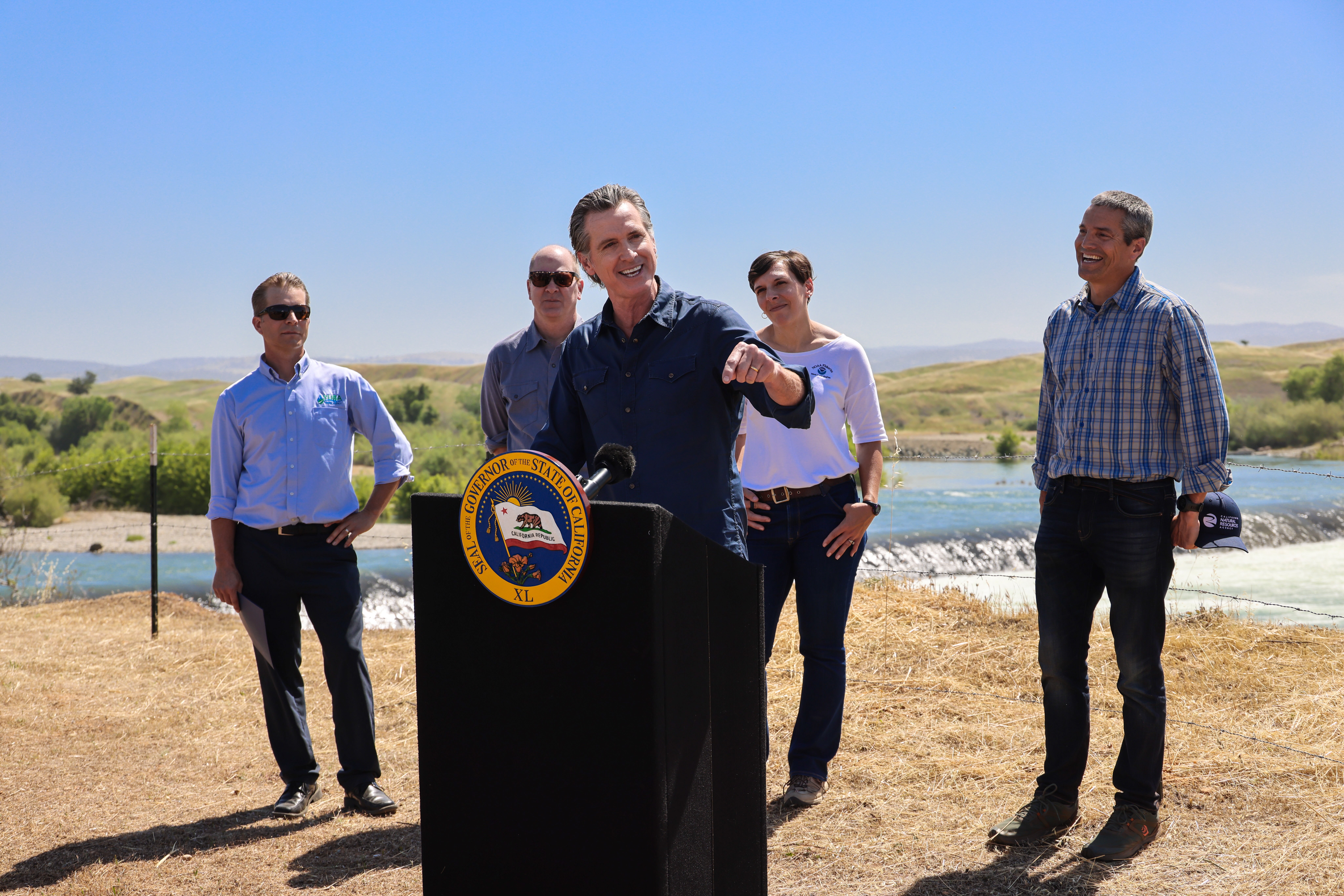 Governor Newsom and state, local and federal officials announce agreement to restore the Yuba River.
Rendering of the planned fishway, a channel that will allow fish to reach healthy habitat.
The Newsom Administration has long fought to protect California's iconic salmon runs and their needed habitat, even through significant obstacles faced by the species year after year. California has taken unprecedented action to restore connectivity, invest in infrastructure improvements and reopen miles of cold water habitat that has been blocked to the fish for decades.
America's Largest River Restoration: Through many years of effort alongside the Karuk and Yurok Tribes, the first of four hydroelectric dams on the Klamath River is scheduled to be removed this fall as the largest river restoration project in American history begins. This project, 20 years in the making, received final approval in December 2022. It will revitalize nearly 400 miles of historical habitat to salmon and steelhead that has been blocked for almost 100 years.
Returning Fish Home and Prioritizing Native Habitats: Earlier this month, CDFW announced an historic co-management agreement with the Winnemem Wintu Tribe for continued work to return salmon to the McCloud River. This follows efforts from July 2022 when the Tribe and federal partners returned approximately 20,000 fertilized endangered winter-run Chinook salmon eggs to the McCloud upstream of Shasta Reservoir for the first time since the construction of the Shasta Dam in the 1940s. Last year, about 300 threatened spring-run Chinook salmon were moved to native habitat above Eagle Canyon Dam on North Fork Battle Creek, about 20 miles east of Cottonwood, in Shasta and Tehama counties for the first time in more than 110 years. CDFW also moved threatened spring-run Chinook to Clear Creek, in Shasta County. Colder water temperatures in these waterways better support spawning and help their eggs survive during drought conditions.
Creating Connectivity and Modernizing Infrastructure: The state is utilizing a new method of DNA-based tagging, called Parentage-Based Tagging, that allows salmon fry to be released at half the age and half the size of typical, hatchery-released salmon smolts. California is also working to modernize its hatcheries to be climate resilient and protect biodiversity, with over $84 million invested in the last several years to replace aging vehicles in fish planting fleets, modernize hauling trucks, replace egg incubators and sorting machines, and install automated fish counters and water chillers, among other improvements. California increased fall-run Chinook salmon hatchery production by 1.75 million smolts on the Feather River, increased fall-run Chinook salmon production by 500,000 for early release on the American River, and increased fall-run Chinook salmon production by 500,000 fish on the Mokelumne River, while transporting over 19 million hatchery raised juvenile fall-run Chinook salmon to the San Pablo Bay, San Francisco Bay and seaside net pens in 2021 and 2022 to give salmon a better chance in their migration.
Investing in Critical Habitat: The state recently announced significant investments of approximately $36 million into critical habitat, climate refugia and salmon strongholds, wildlife corridors, and mountain meadows and wetlands restoration. This followed the announcement of another $22.5 million to benefit salmon and other critical habitat projects statewide, including the largest project for riparian habitat restoration on the middle Trinity River. In February, the Wildlife Conservation Board approved approximately $51.83 million in grants to help restore and protect fish and wildlife habitat throughout California. Some of the 25 approved projects will benefit fish and wildlife, including some endangered species, while others will provide public access to important natural resources.

SOURCE: https://www.gov.ca.gov/2023/05/16/governor-newsom-announces-agreement-to-reopen-yuba-river-to-salmon-and-launch-river-restoration/